Spotlight on The PVD Channel Chairman, Dr. Paul J. Gagne
July 1, 2021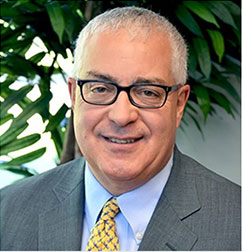 From a global perspective, what is currently your greatest concern with regard to vascular disease?
Vascular disease is often asymptomatic and insidious until it is an emergency. Evaluating high-risk patients for problems before they present as a crisis is important. Raising awareness with healthcare providers of all sorts as to what the "red flags" are for identifying impending problems is important. Also, having enough providers to confront an aging population, and allowing these providers enough time to think about not only the patients' current active problem, but also potential future problems, are challenges we face!
Specifically, as a result of the global pandemic, what is your primary concern with regard to vascular healthcare? The high incidence of deep vein thrombosis associated with COVID-19 infections will lead to an increase in advanced lower extremity, deep venous insufficiency that most of the medical community is inadequately trained to treat optimally. Also, the focus of resources to fighting the pandemic may leave healthcare systems cash poor for preventive and optimal vascular care in the future.
What is your greatest source of optimism about the future of treatment for peripheral vascular disease?
The advance of new and minimally invasive technologies will allow us to transfer most vascular interventional therapies to the outpatient setting such as office-based labs, thereby enabling my colleagues and me to provide high-quality vascular therapies in a low-cost setting. This allows us to serve our communities better than we could with the aging hospital-based model, as affordable care will be more widely available.
Please share your thoughts on the role of technology in advancements in your field.
In my lifetime, technology has enabled vascular interventions to go from maximally invasive to minimally invasive. Patients have gone from long post-op hospital stays to a couple of hours in the recovery room. We no longer avoid the elderly and frail at high risk from general anesthesia and an open procedure. We can treat the elderly and frail with minimally invasive technologies no more invasive than an intravenous catheter. It has truly been a revolutionary and exciting transformation over just 35 years, all due to the new technologies we have gained.
Besides new devices or equipment, in what ways have new technologies improved your abilities as a clinician? This might include more connectivity with global experts, improved access to data, real-time sharing of information, etc.
The ability to meet by Zoom or other audio-visual platforms has enabled a high-level exchange of ideas and data in spite of the isolation required to battle this pandemic. The initial attempts to convert from in-person meetings to remote meetings were clumsy. However, in a matter of months, these Internet-based "meetings and lectures" have enabled me and others to share with colleagues all over the world. No longer do time zones and the challenges of long-distance travel prevent an academic and educational exchange. It is one of the silver linings of this pandemic.
Why did you become involved in the creation of The PVD Channel?
I learned early in my career that good patient outcomes were not dependent solely on my technical skills and knowledge, but also proper patient selection. I learned that educating medical colleagues to identify patients at risk of a vascular crisis before the crisis occurred generally allowed timely intervention with improved outcomes. The PVD Channel helps to achieve this broad education. Expanding the knowledge base about vascular disease as well as an understanding about the possibilities contained in minimally invasive technologies and how application of these innovations improves vascular patients' outcomes has been very rewarding to me.
What is the primary goal that you aim to accomplish in your role as faculty for The PVD Channel? To engage and motivate other medical professionals to identify patients at risk for vascular crises and provide these patients therapy before they reach the point of no return.
How is The PVD Channel different from other educational initiatives?
The PVD Channel will be an ongoing source of education and information regarding new vascular therapies, unlike most educational efforts. Medical innovation is occurring so quickly, we need this type of easy access, continuously available education to make us all better informed and capable physicians and healthcare providers.
If you could share one insight from your experience treating patients with PVD with your colleagues around the globe, what would it be?
The more we learn about vascular disease and the innovative ways to treat vascular decompensation, the better we serve our patients—either by direct intervention or referral for best care. What we don't know we can't recognize. What we don't know of, we can't prescribe.
What is the biggest threat to vascular care worldwide?
Knowledge gaps surrounding new treatments and unwillingness to consider new ideas about techniques, treatments and point-of-care settings for cost-effective therapies compromises improving vascular care worldwide.